WordPress course
WordPress online complete course for makers and users
Here you'll learn all the steps from creating and setting up to maintaining and marketing your own WordPress website. Lifetime access to all course videos, free WordPress theme and 30-day money back guarantee.
Only until September 30 with 50% discount!
This is what is in the WordPress course package
The WordPress course is a complete starter package so you can get started with WordPress right away!
Over 11 hours of video footage
WordPress premium theme included
Watch on mobile devices, TV and computer
Unlimited lifetime access
Support from trainers and participants
Voucher for 6 months free web hosting
Official certificate of completion
Over 15,000 participants
Over 2,500 positive reviews
Only until September 30 with 50% discount!





More than just an online course to learn WordPress!
The WordPress course is a complete and comprehensive starter package for you if you want to start from scratch or deepen your previous knowledge step by step.
Learning WordPress made easy!
In addition to the WordPress complete course you will receive a WordPress premium theme worth 60 euros for free. So you can start perfectly equipped and build your own website step by step.
Additionally, you get the priceless opportunity to share and network with other course participants and the instructor after purchasing the course.
Your purchase is completely risk-free - thanks to a 30-day "no questions asked" policy. Money-back guarantee. Lifetime access included on all course videos and the included WordPress premium theme.
Register now and get an extra 5€ discount!
Sign up now for my WordPress info newsletter and receive directly an extra 5€ discount voucher for the course and exciting news about WordPress in the future:
Watch trailer & info now
In this video I would like to give you a first impression about the contents of the WordPress course and introduce myself briefly.
What you will learn in the WordPress course
Over 11 hours of concentrated practical knowledge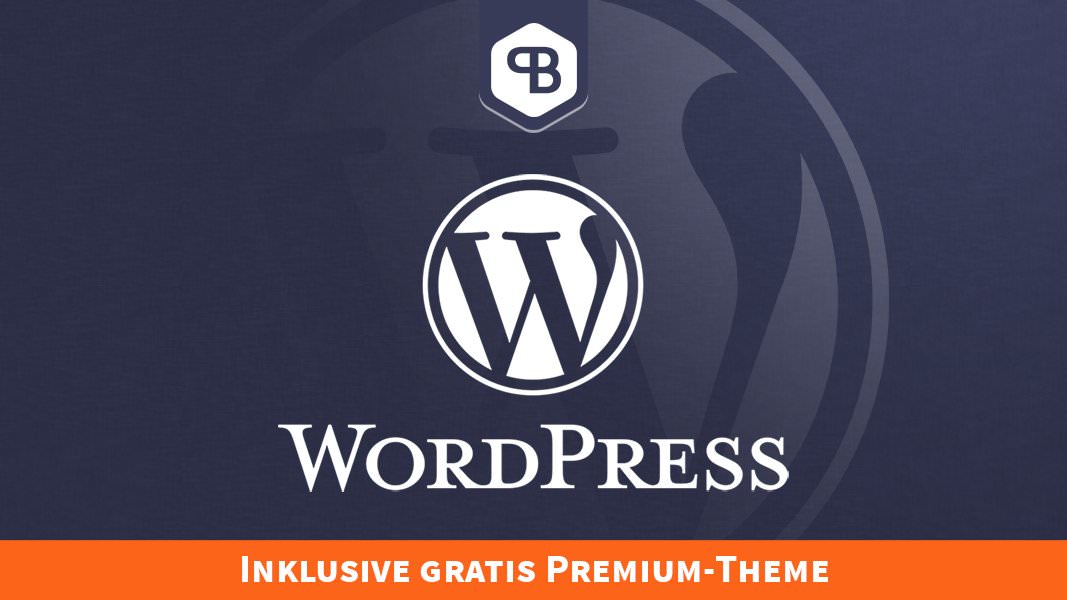 Introduction
To get started, you'll get basic information about the course, your instructor, and some WordPress basics you absolutely need to know.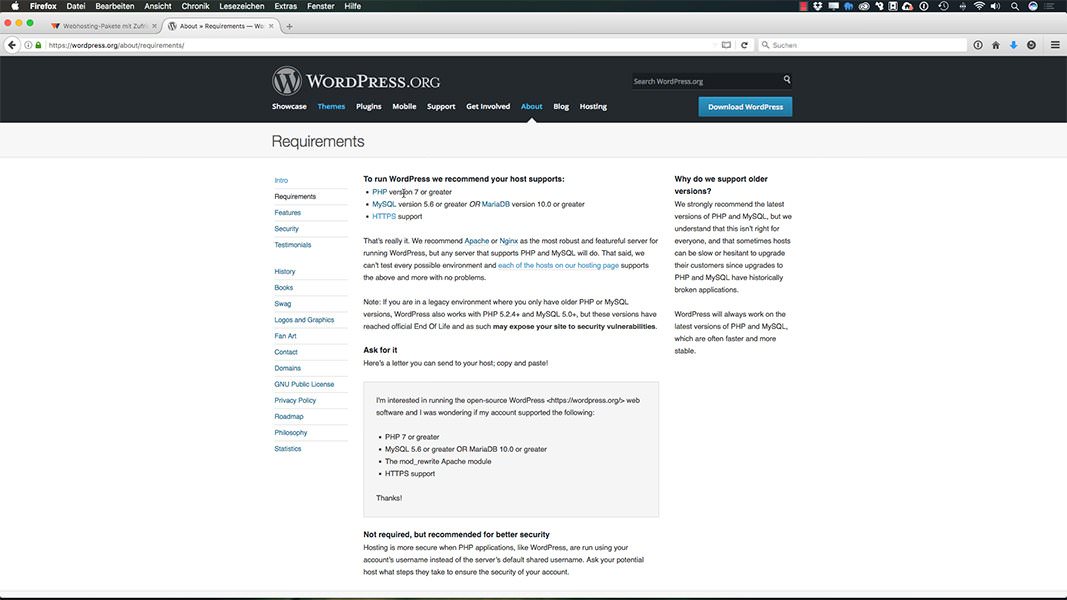 Preparations and installation
This is how you order and configure your web space and install WordPress on it. We will guide you step by step through the installation.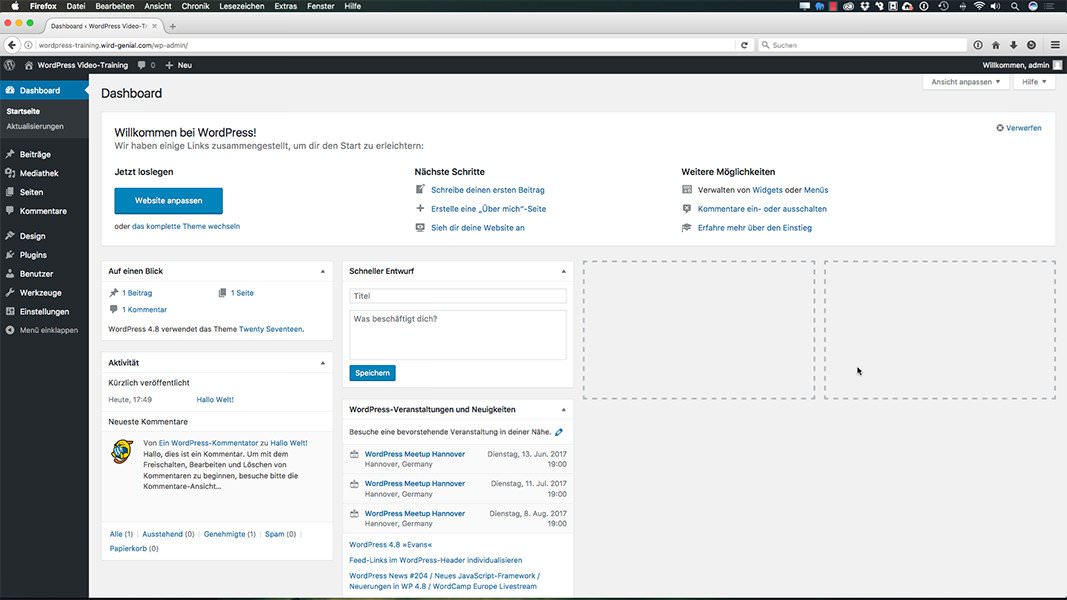 WordPress interface and functions
You will learn all the basics to be able to use WordPress and be prepared for your daily work. Incl. video quick reference to "look up".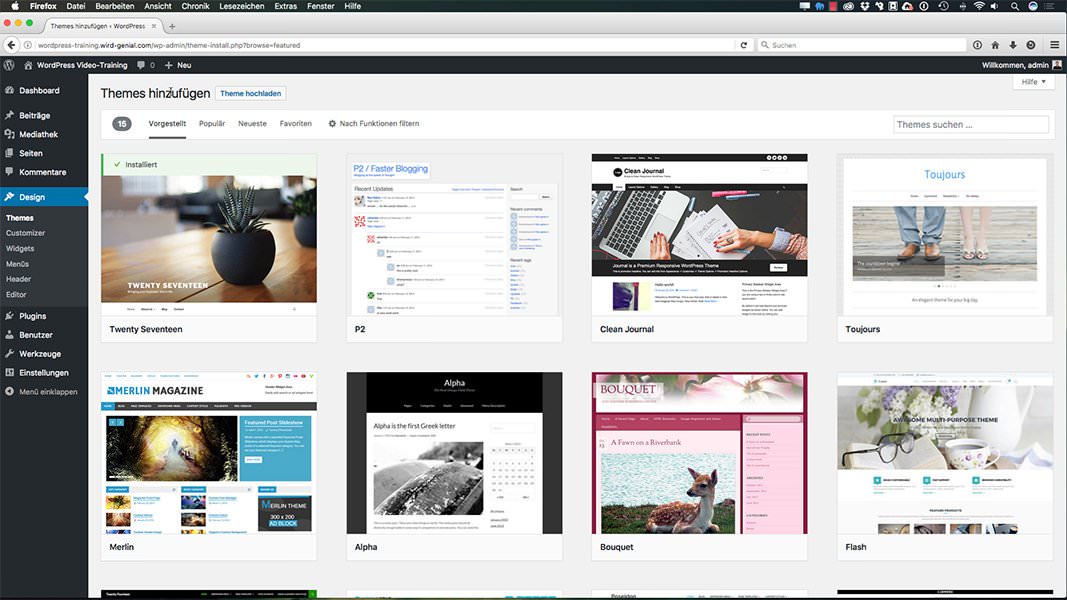 Themes
I'll explain what themes are, show you the best places to get them and together we'll install one of the most used premium themes for WordPress.
Create website with Leedeo
You get the WordPress premium theme Leedeo for free with this course. I explain you how to install it, use it and show you the most important functions.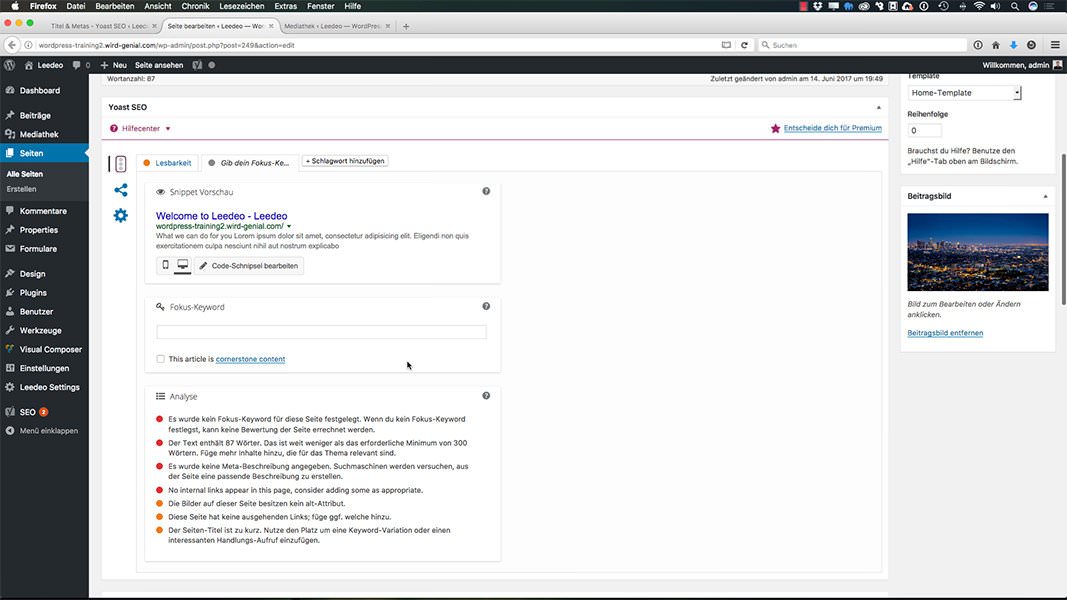 Plugins & SEO Knowledge
I show you the 8 most important plugins to extend WordPress and give you basic WordPress SEO knowledge to be at the top of Google & Co.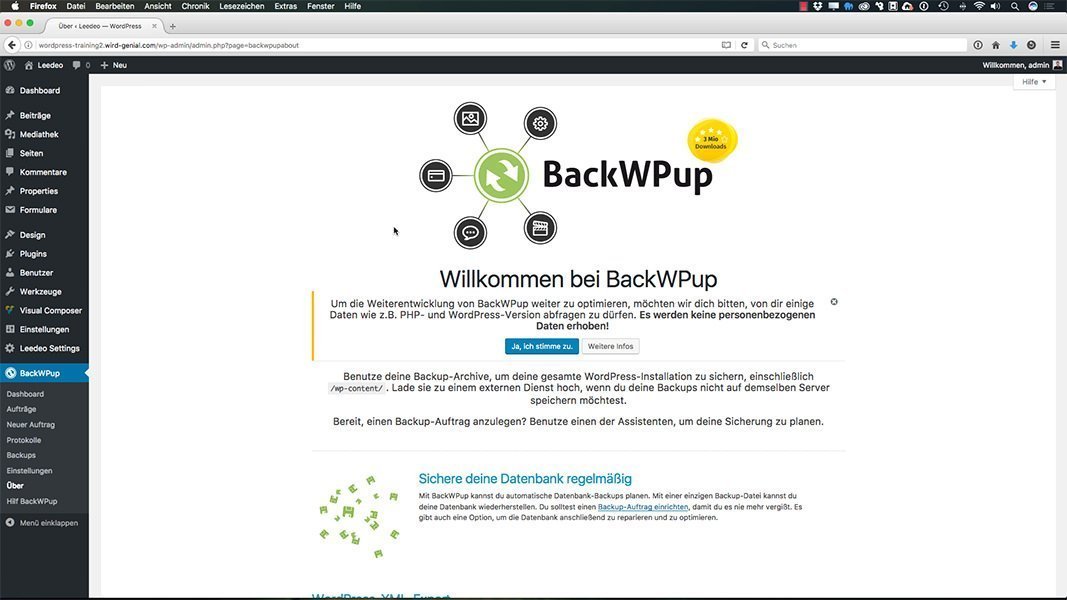 Backups and security
You will learn how to create backups in case of emergency, how to install important updates and how to secure your WordPress website against attacks.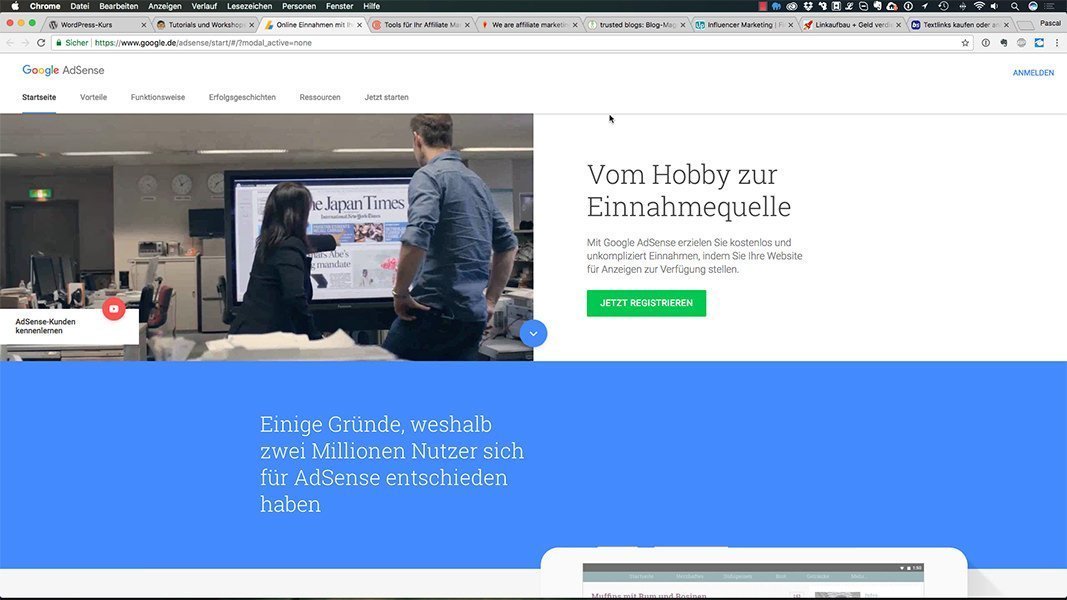 Market website - tips & tricks
Learn what options there are to monetize websites and how this is possible with WordPress. You will learn how to effectively integrate advertising into your website and tips for affiliate websites.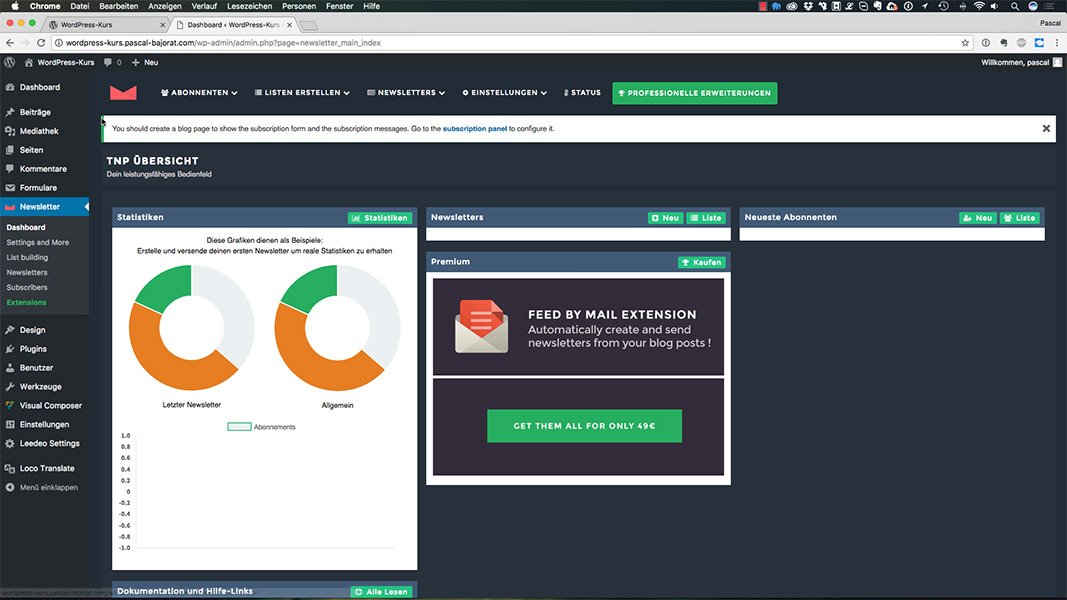 And much, much more...
You'll learn how to install and set up a newsletter, tips & tricks for using Visual Composer as a page builder, creating complete websites, tips for sourcing text and images, and much, much more!
Over 11 hours of concentrated practical knowledge
For more than 15 years we have been working professionally with WordPress, the world's most used CMS. This course introduces you step by step to the practical work with WordPress. You will be able to apply every single step directly in practice.
Your WordPress course, your pace
You have lifetime access to all videos and additional material. You determine the learning speed in the course yourself. Pause, skip or repeat, just as you like.
Trainer contact
If you have any questions, you can always communicate directly with the trainer via the Q&A section. With this course you are not alone, but have constant access to help and answers!
Contact with other participants
The central Q&A area gives you the opportunity to get in touch with over 800 other participants. You are now part of a community and can network with other course participants (bloggers and entrepreneurs) and the instructor.
On any device and at any time!
The course is available via corresponding portals on all common devices and for all common systems. Computer, smartphone, tablet or TV. This ensures that the course can be used anywhere and at any time.
Over 2,500 positive participant reviews!
The WordPress course has received over 2,500 positive reviews from participants. On average, the current rating is 4.6 out of a maximum of 5 possible stars. One of the best courses in its class!
Katja Schulz
"No prior knowledge is really needed and Pascal Bajorat speaks intelligibly, clearly and pleasantly calmly without slipping into boredom, making it easy to follow the content."
Rating: 5 from 5 stars
George
"Everything was explained very well! I feel well armed with the basics and feel I have saved a lot of time instead of having to figure it all out and research it myself. Great job, keep it up!"
Rating: 5 from 5 stars
Franz Stachelberger
"Very ingenious. Simple, structured, purposefully explained and that from scratch. Super features like the 15 sec back/forward or the small tasks you can do. Also the way of training appeals to me very much. Highly recommended, therefore 5 stars."
Rating: 5 from 5 stars
Jürgen Bödecker
"The instructor has a friendly way of explaining, gets straight to the point and expresses himself in an understandable way. For me as an advanced student, even the introductory videos were not boring and brought to light some details I hadn't noticed I was missing."
Rating: 5 from 5 stars
Catharina Riehm
"Super good and detailed explanations. Am an absolute technology dyslexic and can still follow super!"
Rating: 5 from 5 stars
Jacob Kirch
"Great course, even for me as an old hand in the matter are still some things that I did not know. The theme is also a real added value - the icing on the cake, so to speak. Mega!"
Rating: 5 from 5 stars
Over the years, Bajorat Media Agency has received awards from various portals, partners and, last but not least, clients. With us, your project is in good hands!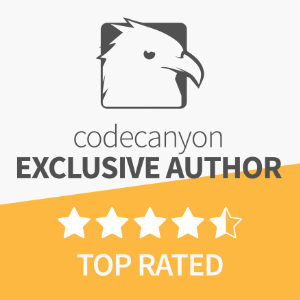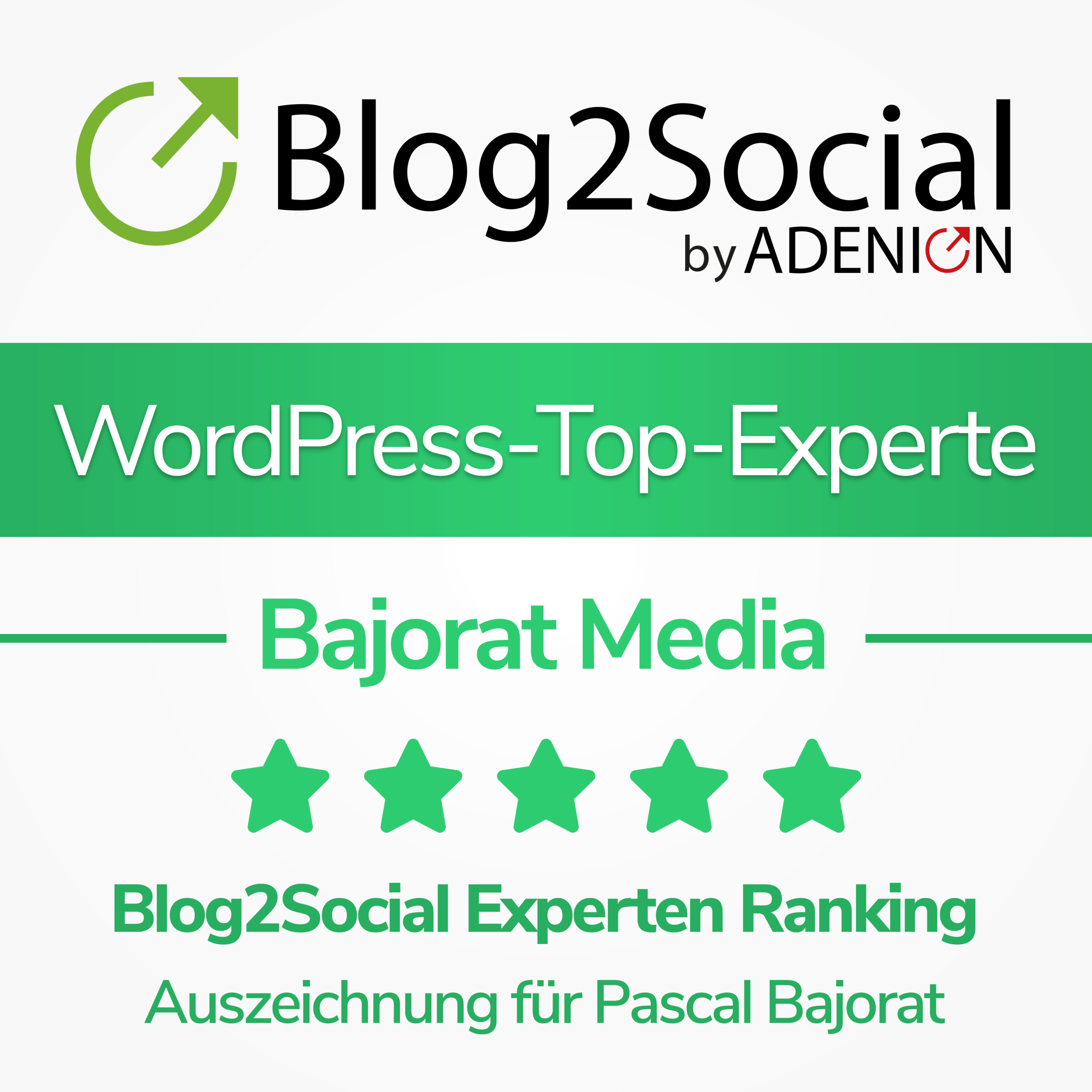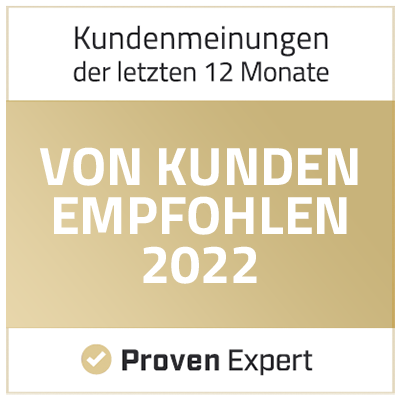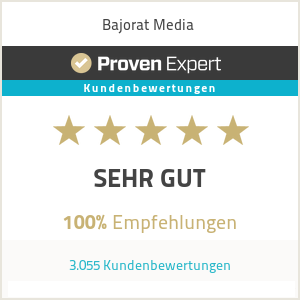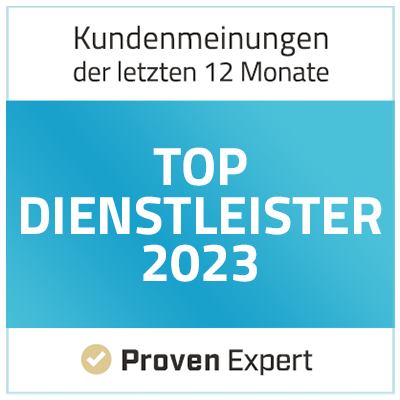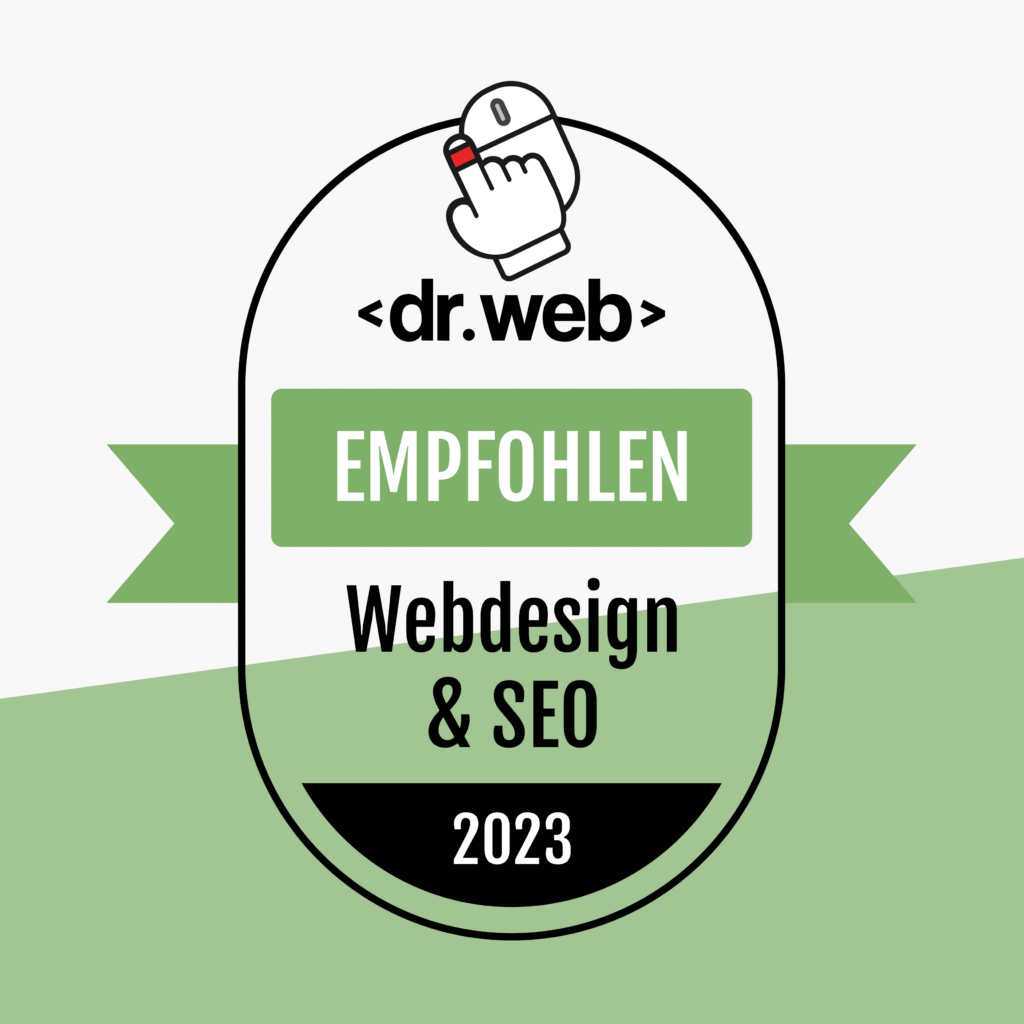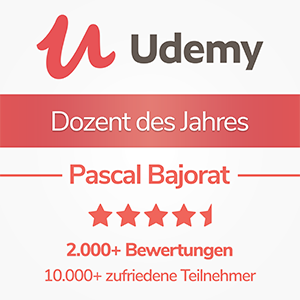 Your trainer and contact person
WordPress developer, web designer, SEO specialist and author
Pascal Bajorat is a trained media designer and has been working as a web designer and developer for over 15 years. In the course of his career, he has worked as a web designer in one of the largest European Internet agencies.
Before starting his own business and founding today's WordPress agency, he was mainly responsible for the development department of one of the largest German e-learning portals with an associated agency business.
Today he leads an agency specialized in WordPress in the heart of Berlin. There, the customer-oriented team mainly deals with the development of WordPress websites and special solutions for established companies as well as for startups.
In addition to his daily agency business, Pascal is also an author for video trainings and professional articles, which have already been published by well-known publishers and publicists. These include publications for T3N or the Webstandards Magazine / Screenguide as well as video trainings published by 4eck Media.
What are you waiting for?
Buy the course now with 50% discount directly and get started or try it for free.
Buy online WordPress course
Currently there is the WordPress course with over 50% discount! Secure this discount now and get started with WordPress right away. Completely risk-free with 30-day money back guarantee!
You can access all content immediately after purchase and start directly with the course.
Test course free of charge
If you want to get a taste of the WordPress course before you buy, you can test a few selected videos completely free of charge and without obligation.
Here you can find the list of free preview videos:
Online WordPress course by WordPress professional Pascal Bajorat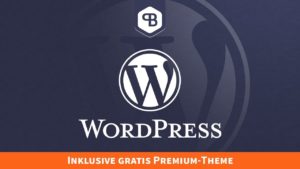 WordPress Course for Makers and Users - This complete is a complete starter package for your perfect start with WordPress.
Course Provider: Person
Course Provider Name: Pascal Bajorat
Course Provider URL: https://www.bajorat-media.com/lp/wordpress-kurs/