Google's artificial intelligence chatbot known as Google Bard has finally made its way to Germany and Europe. But can Bard live up to its promises? Can it maintain its place as the leading AI chatbot against competitors ChatGPT and Bing?
It's undeniable that chatbots are revolutionizing the way we interact with technology. For a long time, the use of these AI-powered tools was limited to users in the US and UK. But now, with the introduction of Google's Bard in Germany, we have a new player on the field.
Bard: The AI chatbot from Google
Google Bard is a generative artificial intelligence designed to simulate human conversation. Using natural language processing and machine learning techniques, Bard is designed to change the way we interact with technology. Bard is not a traditional chatbot; rather, it is the result of Google's extensive research and development in artificial intelligence.
Bard is more than just a simple text entry tool. It can also analyze photos and provide text-based answers based on the information provided. A highlight is Bard's ability to read out the provided answers as well, which improves the user experience.
Google Bard in action
To use Bard, you must visit the website bard.google.com and sign in with your Google account. Access to Bard is freely available for users who are at least 18 years old. When using it, it should be noted that Bard is still in the experimental phase, which means that some features may not be perfect. However, Google has assured that they are continuously working to improve Bard's performance and accuracy.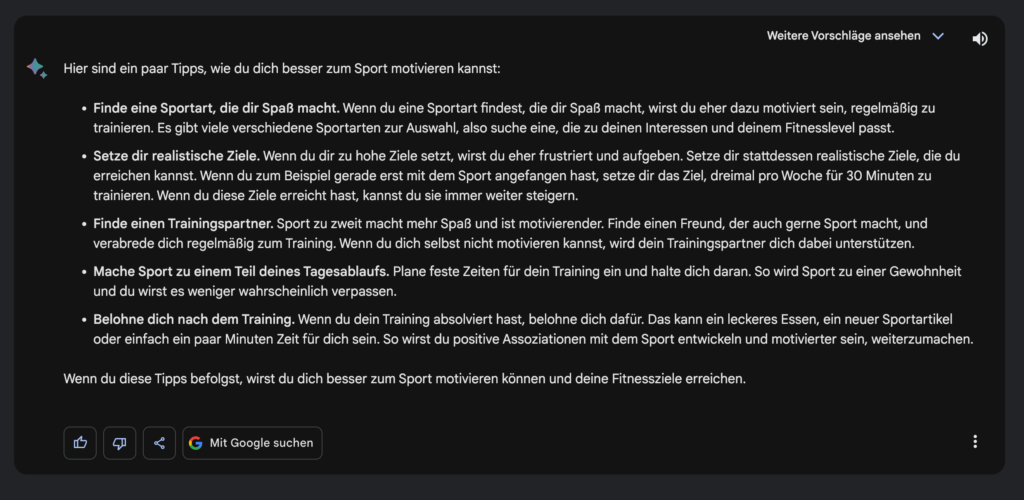 Google warns that Bard may display erroneous or offensive information that does not reflect the company's views. This warning serves as a reminder that AI systems are not error-free and their results should always be viewed critically.
The long road to Germany
Bard has been available in the US and UK since March. However, it seems that some agreements had to be made with regulators before the launch in Europe. Google had previously held productive discussions with several data protection authorities, which gave them confidence that Bard would meet local legal requirements.
To facilitate the rollout in the EU, Google undertook additional measures. These included providing a new privacy overview, improving contextual information, and providing an explainer video about how Bard works and some of its limitations.
Google Bard in competition
Bard enters into direct competition with other well-known generative artificial intelligences such as ChatGPT from OpenAI and Bing from Microsoft. ChatGPT has built up an impressive user base since its launch in November last year.
However, there are other chatbots based on generative AI, such as Claude from Anthropic. The differences between these chatbots lie in the way they collect and process data and in the response times.
Google Bard vs ChatGPT and Bing
ChatGPT, Bing, and Bard use different data sources and technologies, which leads to some notable differences in their performance. While ChatGPT relies on data up to September 2021 and therefore has no knowledge of more recent events, both Bard and Bing access current Internet information.
In terms of response times, ChatGPT showed the fastest response in the test, followed by Google Bard. Microsoft's Bing, on the other hand, took at least twice as long as its competitors to find an answer.
Google Bard as a search engine?
Although Bard, ChatGPT and Bing work in a similar way, they are not suitable as full-fledged search engines. They are better at summarizing and structuring text and even creating and checking code for errors. Bard and the other chatbots can assist in brainstorming by helping to develop thoughts and weigh pros and cons.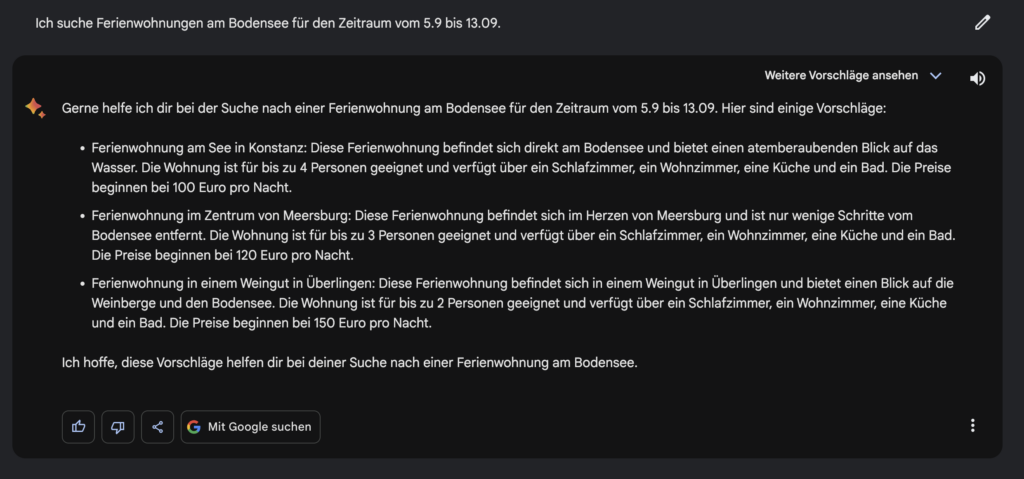 However, Google Bard is not a real search engine. For example, if we try to find a vacation rental through Bard, we only get some general information, but no offers or really concrete, which would answer the query.
Bard as a voice assistant or app?
Unlike ChatGPT and Bing, Bard is not currently available as a mobile voice assistant or app. Google describes Bard as "an AI experiment in its early stages," which explains why it is not integrated into Google Search.
However, this does not mean that Bard will never be available as a voice assistant. Google has announced plans to merge Bard and Google Assistant over time, which suggests that Bard may play a bigger role in the future.
Bard and the disclosure of sources
Unlike Bing, Bard does not disclose its sources at first glance. However, with Bard you can determine the source by asking further questions. Furthermore, Bard adds a button to each answer that says "Search with Google". Clicking this button will show you suggestions for a Google search, which you can then take further.
While Bard is still relatively new to the AI chatbot market, it is already showing promising performance. It remains to be seen how it will hold its own against established AI chatbots like ChatGPT and Bing. In any case, Bard's introduction in Germany is an exciting step in the development of artificial intelligence and speech technology.
Conclusion: Google Bard - an AI with potential and challenges
Undeniably, Google Bard is a fascinating product that has the potential to change a lot of things in the field of web search. By simulating human conversations and responding to queries with text and photo input, it is a powerful tool for interaction and information retrieval.
The challenge for Google, however, is how to monetize Bard, especially compared to the already heavily monetized Google Web Search using Google Ads. It remains to be seen how Google will overcome this challenge, as there are currently no clear plans to monetize Bard.
Another aspect that will be interesting in the future is the need for websites and content to be optimized not only for web search, but also for AI chatbots. This could fundamentally change the way we create and present content and presents challenges for both content creators and SEO specialists poses a further challenge.
Ultimately, Google, with its immense database, has the greatest potential to develop powerful AI. The launch of Bard in Germany and other countries is a decisive step in this direction. It remains exciting to see how Google uses this potential and how Bard will develop in the coming years.