In today's business environment, B2B companies want to know more than ever who is visiting their website and which companies are interested in their products or services. With the Leadinfo online tool, this is now easily possible. In this article, we will introduce you to the tool and show you how it can help you generate valuable leads for your business.
Leadinfo provides you with a clear view of which companies have been to your website and how they have used it. Thanks to the simple yet effective technology behind Leadinfo, you can identify and target your website visitors in real time. Below, we'll go over how the tool works, the data it collects, and how it complies with the GDPR.
How does Leadinfo work?
Leadinfo is an online tool developed by a company of the same name headquartered in Rotterdam. The German branch is located in Düsseldorf. The tool allows you to find out which companies visited your website, how long they stayed there and which pages they viewed.

The key here is the simple technology based on an HTML tracking code that is embedded on your website. Through this code, Leadinfo can identify the B2B visitor:s by their IP address in real time. The static IP addresses used by companies are matched against a database at Leadinfo based on publicly available sources such as Chamber of Commerce information.
What data is collected?
The extensive data set that Leadinfo collects gives you a lot of information about the companies that visit your website and their behavior. This information helps you assess lead potential and contact them if necessary. The data collected includes:
Company name
Sales figures
Industry focus
General contact details
Employees with linked LinkedIn & XING profile
Public email addresses
Date and time of the visit
Number of pages visited
List of visited pages
Record of the visit
Lead evaluation by means of Lead Score
With the help of this information, you can gain valuable insights that you can use for direct or subsequent contact. For example, if a company has visited several sub-pages on the topic of "planning a data center", there is a high probability that they are actually interested in this service.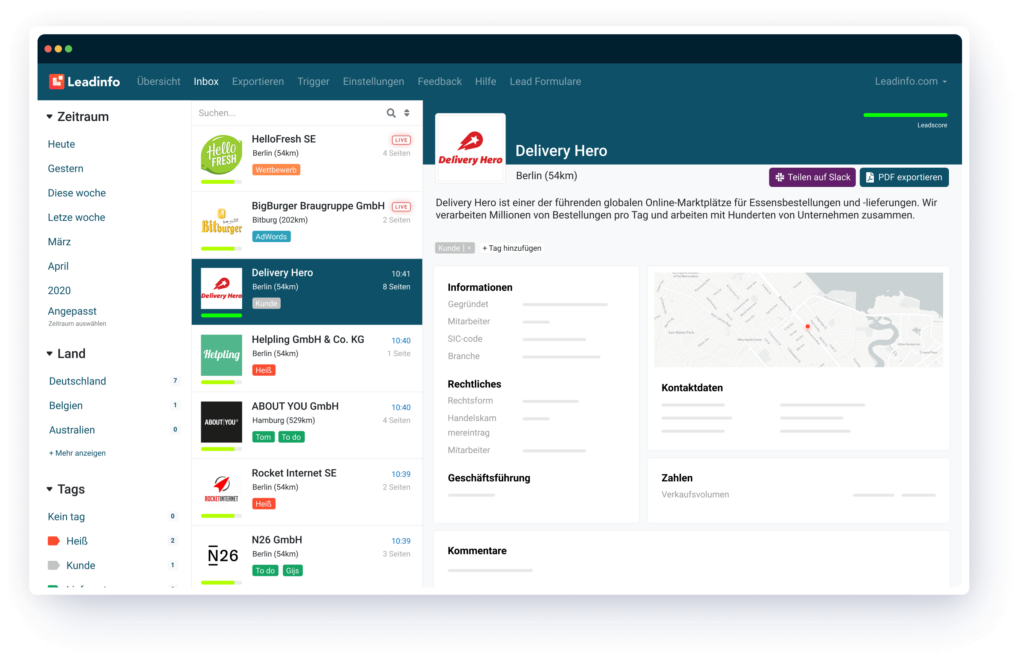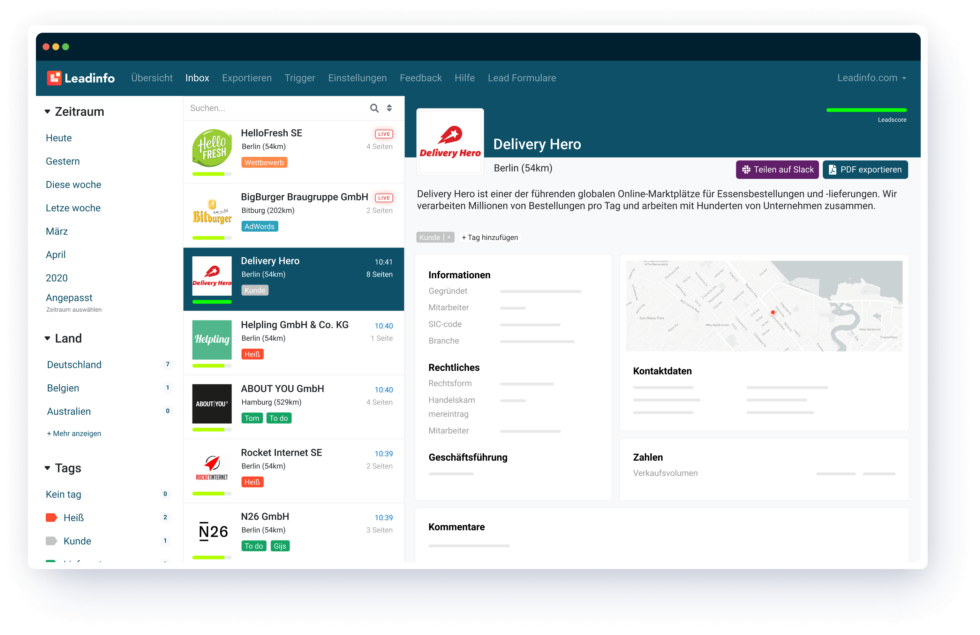 Video recordings of website visits
A particularly interesting feature of Leadinfo is the anonymous recording of longer website visits. With a video recording, you can track exactly how visitors have moved around your website. This can help you better assess the needs of your potential customers and target your sales strategy accordingly. Using Leadinfo's real-time display, you can contact the company directly and start a sales conversation within minutes of the website visit. Alternatively, you can contact the company by email the next day. Either way, Leadinfo enables you to effectively acquire companies with high customer potential.
DSGVO compliance for lead generation
A legitimate concern of website owners is the question of the tool's compliance with the GDPR. Leadinfo is GDPR compliant because all information is processed in European data centers that are certified according to relevant data governance and information security standards such as ISO/IEC 2700x and BSI C5.
Since IP addresses are considered personal data, the consent of website visitors is required before activating the Leadinfo tracking code. Similar to the use of Facebook Pixels or Google Analytics, permission to run the code must be granted via the Cookie Consent banner.
More insights through linking with Google Ads
Leadinfo can also be linked to Google Ads and many other tools such as Hubspot, Zapier and Salesforce. This has the advantage that Leadinfo shows which Google campaign and which search term brought the company to your website. This information can also contribute significantly to the assessment of the lead potential.
More than just lead generation: email notifications and CRM integration
Apart from the features and benefits already mentioned, Leadinfo offers other useful features that facilitate lead generation and management. One of these features is email notifications that inform you about new website visitors. This allows you to react promptly and increase the chances of successful contact.
Another handy feature of Leadinfo is its integration with popular CRM systems such as Salesforce, Hubspot or Zoho. By seamlessly connecting your CRM system with Leadinfo, you can automatically store and manage the captured data in your CRM. This simplifies lead tracking and allows you to make the entire sales process more efficient.
Individual customization and filtering options
Leadinfo allows you to customize the display of the collected data and filter it according to your needs. For example, you can sort the list of website visitors by industry, company size, pages visited or time period. This allows you to search specifically for potential customers who best fit your offer.
Furthermore, Leadinfo allows you to add individual tags and notes to the captured companies. This way you can leave internal comments or tag specific leads by priority to optimize lead management within your team.
Behavior-based segments and personalized campaigns
Leadinfo also helps you create behavior-based segments and personalized marketing campaigns. Using the collected data, you can create detailed profiles of your website visitors and categorize them into different groups. This allows you to send targeted and relevant messages to the respective audiences to increase conversion rates and customer satisfaction.
Conclusion: Maximize your lead potential with Leadinfo
With Leadinfo, you have a powerful tool that helps you gather valuable information about the companies that visit your website and derive targeted sales strategies from it. Real-time identification of B2B visitors allows you to quickly and effectively contact potential customers directly.
Thanks to the tool's GDPR compliance and the possibility to link it with other online marketing tools like Google Ads, you can integrate Leadinfo into your marketing strategy without hesitation and maximize your lead potential. So don't wait any longer - try Leadinfo and discover the possibilities it offers to take your B2B lead generation to the next level.
In summary, Leadinfo is a versatile and powerful tool that goes far beyond just identifying website visitors:inside. With the additional features such as email notifications, CRM integration, customization, filtering options and behavior-based segments, Leadinfo gives you everything you need for successful and effective B2B lead generation and management. Increase your sales opportunities and rely on Leadinfo to put your business on the road to success.
Bajorat Media is a certified Leadinfo Partner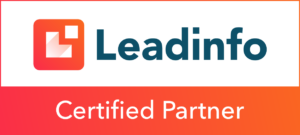 Thanks to the uncomplicated integration and the extremely informative and valuable data offered, we at Bajorat Media rely on Leadinfo ourselves and are also officially represented in the certified Leadinfo partner program. This makes it particularly easy for us to offer the tool to our customers, who benefit from additional advantages (optimal support, exclusive new functions and more).
Interested in Leadinfo?