Want to learn how to create great websites with Bootstrap 4?
In this comprehensive course, you will learn step-by-step how to create a complete website with Bootstrap 4. We focus on what you need to get results quickly and get started right away.
Referencing the Bootstrap documentation, we cover all functions and build our own modern sample website—we share the code with you for exercise. You also learn how to convert a Photoshop / PSD file into a Bootstrap website.
We cover the complete creation process and share many tips and tricks that we use at our agency. We have been working successfully with Bootstrap for many years and will share our experiences with you through many practical examples.
The recipe for a winning website with Bootstrap
A front-end framework is effective if it affords each website a unique touch without appearing templated. Do you know one or the other website where you immediately recognize Bootstrap as the basis?
With us, you learn to create unique websites that do not appear templated. Together we will create a comprehensive sample website based entirely on Bootstrap. However, we will conceal Bootstrap and completely customize the site!
Let's start with the basics
We will show you the basics of Bootstrap. Get to know the flexible grid and the helpers. You will also learn about the file structure and which files you can for which application.
The complete implementation step-by-step – from a PSD file to the finished website!
In our course, we do not miss a single step! We start with the design of the planned website. We have prepared a modern web page in Photoshop and will create it from the PSD file. You learn the complete implementation process from design to website.
You will not only learn how to use the bootstrap components but also how to customize them to your clients' specifications and design.
All components of Bootstrap. All components? All!
Bootstrap is one of the most comprehensive frontend frameworks of our time. We introduce you to all available Bootstrap components with corresponding examples.
Develop lively websites
Bootstrap offers many components that breathe life and movement into a website. We will show you how to use them in the right contexts.
Bootstrap and jQuery
To put the cherry on top, you will learn some really advanced stuff: bootstrap methods and jQuery. Thanks to the jQuery implementation, you can completely customize each bootstrap component. Custom controls for the carousel / slideshow or connecting components—no problem thanks to the jQuery functions.
Would it not be cool if the website automatically displayed information about opening hours if a user requested them via a contact form? Yes, and we will show you how.
Bootstrap reference deck
We have designed a concise reference deck for you with important helper classes and references to major layout components such as the grid system. You can either print or use it in digital format.
So what are you waiting for? Start now with Bootstrap 4!
A sample of Bootstrap components we will cover with relevant examples:
Alerts – Alert or success messages
Badges – badges for texts and buttons, small but fine
Breadcrumb – easy orientation in content
Buttons – Basic elements of Bootstrap 4
Card – The Universal Component
Carousel – Modern Slideshow
Collapse / Accordion
Forms – Forms for login or contact
Jumbotron / Hero Header – Stylish UI Elements
Modal – Content Overlay Box or Popup solution by Bootstrap
Navigation – Creative navigation systems
Pagination – Page numbers for blogs and articles
Popovers – Click alternative with more content
Tooltips – A must-have for many websites or apps
Progress Bar – Optically appealing loading beams or diagrams
Scrollspy – Scroll content dynamically
Content components:
Reboot
Typography
Code
Images
Tables
Figure
And many other tips & tricks for Bootstrap 4. Watch the free preview videos and start right away with Bootstrap 4.
If you have any questions or problems throughout the online course, we will be happy to assist you personally. In the Questions & Answers section of the course, you can contact us and other participants at any time.
Information about the course / training video:
Author: Pascal Bajorat & Sascha Rudolph
Publisher: Bajorat Media
Course price: 94,99€ incl. VAT
Current offer for 69€ incl. VAT
Visit course website now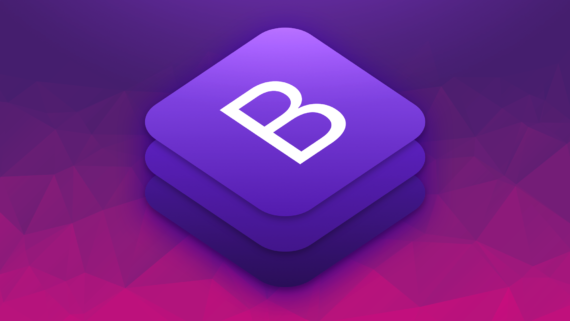 Information about the course / training video:
Author: Pascal Bajorat & Sascha Rudolph
Publisher: Bajorat Media
Course price: 94,99€ incl. VAT
Current offer for 69€ incl. VAT
Visit course website now