The topic of Responsive Web Design, or RWD for short, has become increasingly important in recent years. It is impossible to imagine Web Development without RWD today. Due to a wide variety of screen sizes, for example, smartphones or tablet computers, Responsive Web Design has become an integral part of every web designer's toolbox.
The Responsive Webdesign – Training Video explains in a practical and easy to understand way how to master Responsive Web Design and how to design a seamless experience for mobile users.
Contents:
Responsive Web Design Training is the ultimate guide to bringing dynamic, eye-catching web projects to tablets, smartphones, and other devices. We teach practical techniques based on HTML5 and CSS3, languages that clients use in real projects. To aid your studies, we share the code with you.
Introduction
Testing Responsive Web Design
Basics – example project "Coffee by the sea"
The basic structure (structure, saving for web, …)
The basic structure in HTML and CSS
First Steps Towards Responsive Web Design
Media queries
Dynamic grid layouts with Dreamweaver CS6
Responsive grid layout
Responsive grid layout – a practical example
An extensive example project
Introduction
Head area/Header
Content area and footer
Responsive Web Design
Information about the DVD:
Author: Pascal Bajorat
Publisher: 4eck Media GmbH & Co. KG
Download price: 29.95 € incl. VAT
Download size: 1 GB
View DVD in store
ISBN: 9783944091037
Price DVD box: 39,95 € inkl. MwSt.
View DVD in store
Reviews from customers who have already watched the DVD:
Rated 5 out of 5 stars by DaKKK (member name):
Well explained will all the technical aspects covered in depth. Unfortunately I already knew most of it, but still, I learned a few new things.
Rated 5 stars out of 5 by Frank Gehring:
Great tutorial… well explained
Rated 5 out of 5 stars by Joerg P:
Great training with many practical tips. For every concept, the author shares one approach, stating explicitly that alternative paths might also lead to the same result. That is normal in Web Development. Working with Dreamweaver is made easy, and I had no trouble following along.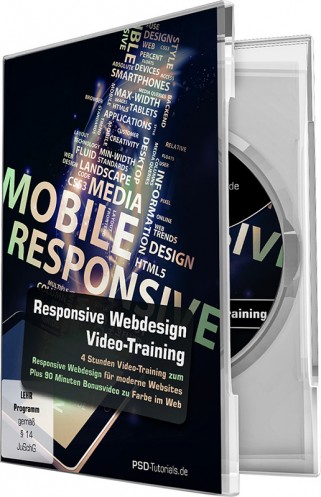 Information about the DVD:
Author: Pascal Bajorat
Publisher: 4eck Media GmbH & Co. KG
Download preis: 29.95€ incl. VAT
Download size: 1 GB
View DVD in store
ISBN: 9783944091037
Price DVD box: 39.95€ incl. VAT
View DVD in store