The WordPress Training Video – Vol. 2 is the perfect complement to the already very successful first part of the series.
The second part partly builds on some of the basics shared in Volume 1, but you can also use it as a stand-alone training session. In this part, we explore more complex techniques, for example, we develop our own small plugins as well as a portal with online store and community functionality.
The course is divided into the following sections:
1. Work environment
The right editor
Webspace and local servers
2. WordPress Back-end
Dashboard
Contributions
Pages
Media
Media library
Comments
Design
Plugins
User
Tools
Settings
3. WordPress fundamentals
The folder structure
The database
wp-config.php
4. Theme creation
Installation
First steps …
Content-loop
Navigation
Article pictures / post thumbnails
Custom background
Comment section
Dynamic sidebar widgets
Develop your own widget
Integrate your own slideshow with back-end management
5. WordPress – SEO
WordPress Plugins
WordPress Jetpack Plugin
Types for WordPress
Antispam Bee
Contact Form 7
TinyMCE Advanced
WP-Syntax
YARPP – Yet Another Related Posts Plug-In
7. WordPress management software
Verwaltungssoftware für WordPress
8. Store with WordPress
WordPress Store with WooCommerce – Part 1
WordPress Store with WooCommerce – Part 2
9. Community / Forum
WordPress forum with bbPress
10. For professionals and advanced students
WordPress – develop your own plugin
Setting up WordPress MultiSite / MultiUser system
WordPress – Security
WordPress – Performance Optimization
Information about WordPress Training Video – Vol. 2:
Author: Pascal Bajorat
Publisher: 4eck Media GmbH & Co. KG
Download price: 29.95 € incl. VAT
Download size: 1,2 GB
View DVD in store
ISBN: 9783944091198
Price DVD bog: 39.95 € incl. VAT
View DVD in store
Reviews by customers who have already watched the DVD:
Rated with 5 out of 5 stars by medicus11 (member name):
War genau dass, was ich gesucht habe. Verständlich erklärt
Rated with 5 out of 5 stars by shivaZ (member name):
Seamless transition from the first part, which takes a novice to the next level. I'm still working through the course, but many of my previously open questions have already been answered … my first personal and above all reusable theme is almost ready.
Rated 5 stars out of 5 by Wolf Gebler:
Well structured just like the first part with precise yet comprehensive explanations.
Rated 5 stars out of 5 by Ulrich Bartke:
A great DVD with very interesting contents. I am looking forward to WordPress Training Video – Vol. 3 🙂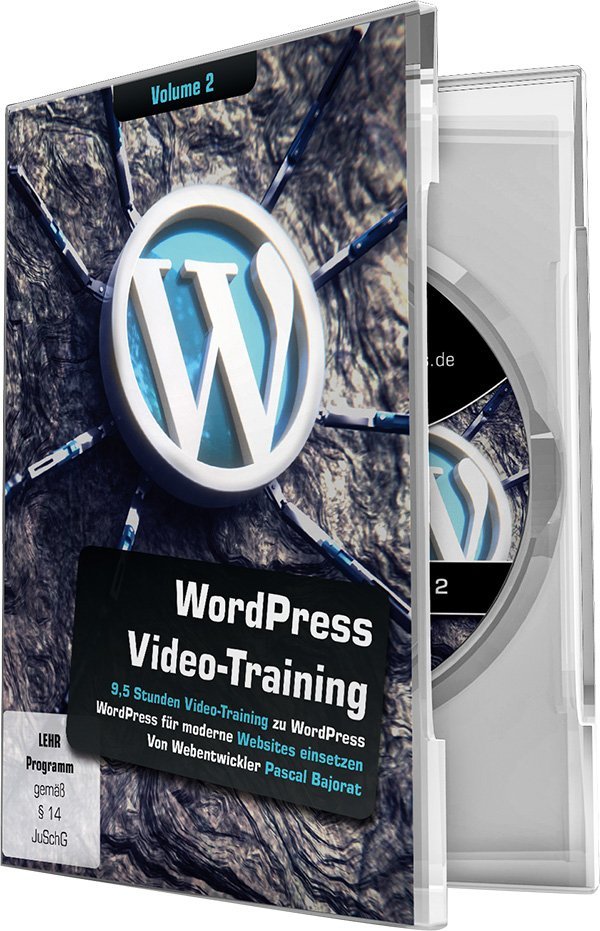 Information about the DVD:
Author: Pascal Bajorat
Publisher: 4eck Media GmbH & Co. KG
Download price: 29.95 € incl. VAT
Download size: 1.2 GB
View DVD in store
ISBN: 9783944091198
Price of DVD box: 39.95 € incl. VAT
View DVD in store