.The content management system WordPress is one of the most popular systems of this web epoch. The English version of WordPress 3.5 alone has already been downloaded over 5,000,000 times from WordPress.org, and several thousand downloads are added every day.
Thus WordPress may rightly call itself one of the most successful content management systems ever. For me personally, WordPress has been my favorite CMS for years, not without reason I have been implementing 90% of my websites with WordPress for years. So it was obvious for me to take up and pass on my knowledge in the form of an extensive training video.
The WordPress training video has now been published by 4eck Media GmbH & Co. KG / PSD-Tutorials.de:
In the training, we share all the important functions of WordPress in a practical way. Authors and theme developers are the main target group. In addition to the basics, we also cover some unusual topics that others often ignore, but that still enjoy great popularity.
Content summary:
Basics, Theme Creation, Multi Language Support and Tips & Tricks
Practical approach: We implement a live project in WordPress from start to finish
Updated for version 3.5, compatible with version 3.0 and higher
We divided the course into four sections:
1. WordPress basics
Introduction
Folder structure – the basic structure
Installation and Basics (Back-end)
WordPress Update
Backups – Back up and restore WordPress correctly
2. Theme creation – use existing themes & create your own themes
Child themes – install existing themes and customize with child themes
Theme creation
Nivo Slider – equip WordPress with professional SlideShow
Blog Sidebar – build well-known WordPress Blog Sidebar with widgets
Add your own shortcodes to the theme
3. Tips & tricks when using WordPress for your web project
Using User-Defined Fields
Custom Post Types
AntiSpamBee – Protect WordPress safely and quickly from spam
SEO – Search Engine Optimization with Professional Tools: How to Find You
WordPress Mobile – WordPress for smartphones with apps and wpTouch
WordPress and Social Media (Facebook/Twitter)
4. Supporting multiple languages with WordPress – no problem
WPML – Create a multi-language WordPress using WPML
qTranslate
Information about the DVD:
Author: Pascal Bajorat
Publisher: 4eck Media GmbH & Co. KG
Download price: 29.95 € incl. VAT
Download sizee: 1.19 GB
View DVD in store
ISBN: 9783981490497
Price DVD box: 39.95 € incl. VAT
View DVD in store
Reviews from customers who have already watched the DVD:
Rated 5 stars out of 5 by Designerist (member name):
Fast download, great support! Dear team, I am proud to be a member of your portal 🙂
Rated 5 out of 5 stars by Petra Winkler-Stadler:
Teaches you WordPress quickly and with great practical examples.
Rated 5 stars out of 5 by Manuela B:
This is a great tutorial to get started with WordPress. It's very systematic, very well explained and easy to understand. Even without previous PHP knowledge, you can quickly create your own blog page based on the really good explanations.
Many thanks to Pascal.
Rated 5 out of 5 stars by uniqueDns (member name):
I have already watched a few WordPress courses and must say that this is by far the best the market has to offer at the moment. If you're looking to develop and implement your own themes in WordPress, you've come to the right place. No matter if you are a beginner or an advanced user, I recommend you get this.
Rated 5 of 5 stars by Gravedigger07 (membername):
The WordPress Training Video DVD is really good (WELL DONE)
Rated 4 stars out of 5 by Lars R.:
This course offers a great introduction to WordPress. The tutorials are easy to understand and well structured.

If you would have broken down the course into smaller bits, I could have given you a 5-star rating. The theme creation tutorial, for example, has a length of 106 minutes and would be easier to digest if it were divided into smaller bits.

Nevertheless, this is a great introduction to WordPress for those who want to use it in practice. Despite minor weaknesses, I recommend buying this DVD!
Rated 5 stars out of 5 by kaempferin (member name):
A great course. Learned a lot and the author explains everything very well. Thank you very much!
Rated 4 stars out of 5 by Joe-Icebaer (member name):
I bought the course to decide between WP and Joomla. It contributed to the decision. Now I know that WordPress is not quite right for me.

WP supports blogs well, no doubt.

About the tutorial as such: Really good and easy to follow. I recommend it to anybody.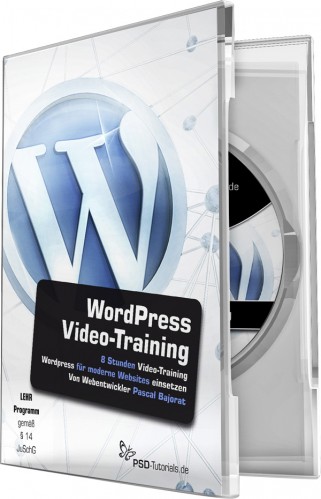 Information about the DVD:
Author: Pascal Bajorat
Publisher: 4eck Media GmbH & Co. KG
Download price: 29.95 € incl. VAT
Download size: 1.19 GB
View DVD in store
ISBN: 9783981490497
Price DVD box: 39.95 € incl. VAT
View DVD in store