WordPress First Aid

IIn case of an emergency, we are quickly there for you.
Do you have acute problems with your WordPress website? No problem, in case of an emergency we are at your side and will help you to fix any errors or problems.
We can help you with these common issues:
White Screen of Death: Your dashboard remains completely white, and you can no longer operate it
Your WordPress installation is no longer available
Website hacked or infected by malware
After an update, your website is buggy
Plugins no longer work correctly
Error in the display of umlauts
You have significant problems with spam
Problems with the theme or presentation
File or image upload error
Your web host informed you about malware and threatens to block your website
In these and similar emergencies, we can provide first aid to quickly restore your WordPress website functionality. We will examine and analyze the problems and then resolve them.
Are you looking for regular maintenance or support services? Then take a look at the following pages:
Which data and information are required?
Collect all the details you think have contributed to the current issue. What actions, work, or changes preceded the error? Provide screenshots of errors and error messages.
The more you share with us, the faster and more effectively we can help you.
Alongside the error details, we also need the access details to your website. That includes WordPress Administrator access as well as FTP data. In some cases, we may also need access to your web host.
Process: What to do next?
WordPress First Aid: As in any emergency, keep calm.
Collect all information as described above. Then contact us using the form on the right. After submitting the form, you will receive separate emergency contact information where you can reach us outside our typical office hours.
What does WordPress First Aid cost?
Exact costs are difficult to predict without concrete details. As soon as you have sent us all the relevant data via the form, we will get in touch with you.
You will receive an initial cost estimate from us as well as further details on the process.
If you are interested in WordPress maintenance or general support for WordPress, please visit the linked pages.
Emergency Support Contact

We are at your side to help you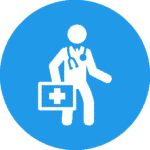 Please try to explain the issues and errors as detailed as possible using the following form. You do not have to provide us with any access details at this time.
After successfully sending the form, you will receive further information and separate emergency contact details. In urgent cases, you can use these contact details to reach us outside our typical office hours.
No emergency?   Information about regular WordPress maintenance work.
Emergency form